So, the other day I was introduced to Twitter.com by This Week in Tech. I thought it was a pretty cool idea, and how fascinating it was the people would want to publish what they are doing every second of the day. I am not so inclined to have people peering into my life with that fine granularity, but I am a programmer and was intrigued by the technology. Next thing I found was the Twitter API which lets programmers interact with Twitter data. How cool! After seeing Twittervision I decided to think of a project of my own.
I came up with Realtime Twitter Mosaic Quilt and started watching the updates flow by. It was neat to watch users' icons be put together in a big patch-work type image. I wondered if they would ever look like pixels in a bigger pictures if they were grouped together in just the right way…
Then it hit me…
What would happen if I could create a photomosaic out of all of these icons? Thus TwitterMosaic was born.
I changed the code of my program to save each users' icon in a directory. Pretty soon I had a catalog of over 17,000+ unique icons to use for the mosaics.
Here's an example:
| | |
| --- | --- |
| Step 1: Choose a photo. Here's a nice pic of me with my saxophone on the beach. | Step 2: Create the mosaic. I used settings that minimized the number of repeated tiles to use as many different icons as possible. |
| | |
| Click to enlarge | Click to enlarge |
Here is a closeup of a section of the full mosaic. In case you can't tell, it is the saxophone.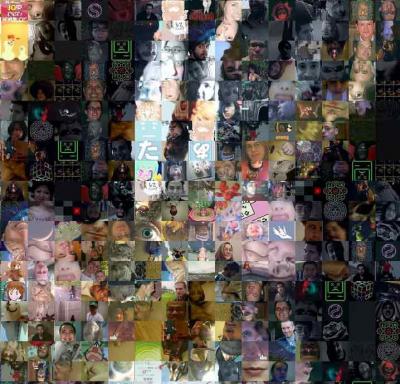 So anyway, this seems like an interesting project.  In future mosaics I will be able to list all of the usernames that appear in the mosaic.  Please note that I only use icons of users that are listed on the public timeline.
If you have ideas for great pictures that you would like to see mosaic'd, please put a link in the comments.  I might just do it!
6 Responses
Leave a Comment